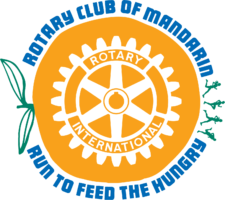 Run To Feed The Hungry 5K
Please join the Rotary Club of Mandarin for their 2nd Annual Run to Feed the Hungry 5k and 1 Mile Fun Run, organized by 1st Place Sports and presented by Spectrum Realty Services, LLC!
Date: Saturday, April 29th
Time: 5k @ 8:00 AM   |   1 mile fun run @ 9:00 AM
Location: Mandarin Presbyterian's campus located at 2501 Loretto Rd.
The Race will benefit the Mandarin Food Bank, the Daily Bread Food Pantry, and other nonprofit charities in the Jacksonville community. Last year, the race netted $36,000 for the benefit of our neighbors. Help the Rotary Club of Mandarin exceed these results by registering today!
Benefiting
Rotary Club of Mandarin was established in 1975 and is proud of their 48 years of accomplishments in the community promoting "Service Above Self." With the valued support of our local businesses and residents, the Rotary has been able to provide significant financial support to charities doing great work – both locally and internationally.
With your help, over the last few years, race proceeds have provided the Mandarin division of Jacksonville Fire and Rescue Department with seven thermal imaging cameras, grants to K-9s for Warriors, donations to Polio Plus, a van to the Mandarin Food Bank at St. Joseph's Catholic Church, and thousands of dollars to dozens of other local charities.